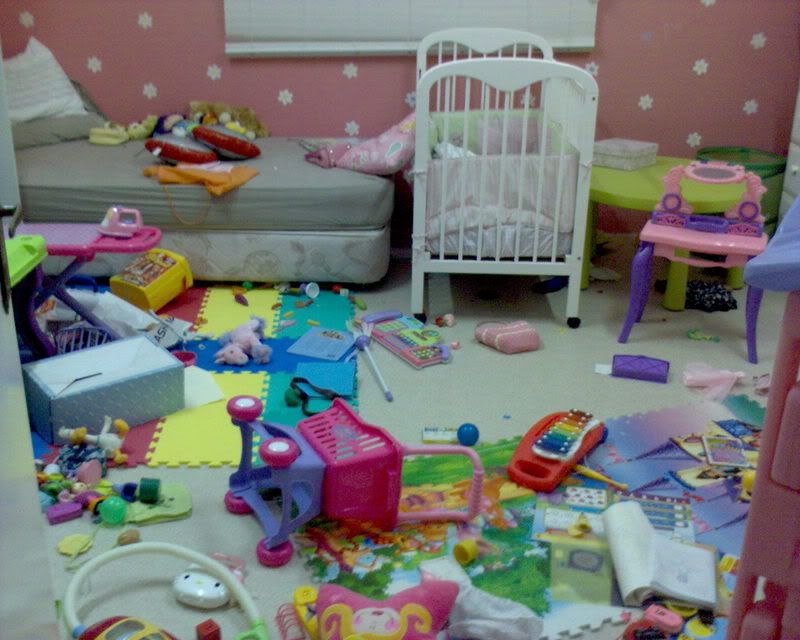 Look what a few hours of play by three active kids(mashallah) can do to a room.. This picture is of my daughter's room ( almost three) after a play day with her cousins ( two boys , three and one year old) , actualy I can't call what they were doing "play" mashallah they were shouting, running, fighting with kids broom "swords", hitting each other with books ( soft ones ofcourse ) and jumping all over the furniture..! And us poor mom's? we were screaming, threatening, picking up harmfull stuff or falling kids all over the place. But can you imagine me saying it was nice? actually just a few days back all the kids were having colds and very pathetic looking, so maybe seeing them active ( or hyperactive ) is better than seeing them sit in one place doing nothing wanting nothing . Besides I had a chance to talk crafts with the kid's mom ( who is actually my cousin's wife) and had a better than time handling active kids than being alone with one.
In another area, without kid's play I can't take a picture of my crafts room..! it's soo messy and filled with stuff I'm working on right now for the Eid gifts. And I got myself more fabrics and felts and just can't put them away in the closet, I enjoy the way they look together.
Oh yah, and I broke the nail of mom's sewing mashine while trying to sew the handles of a bag.
Well that's my news for now.. what's yours??