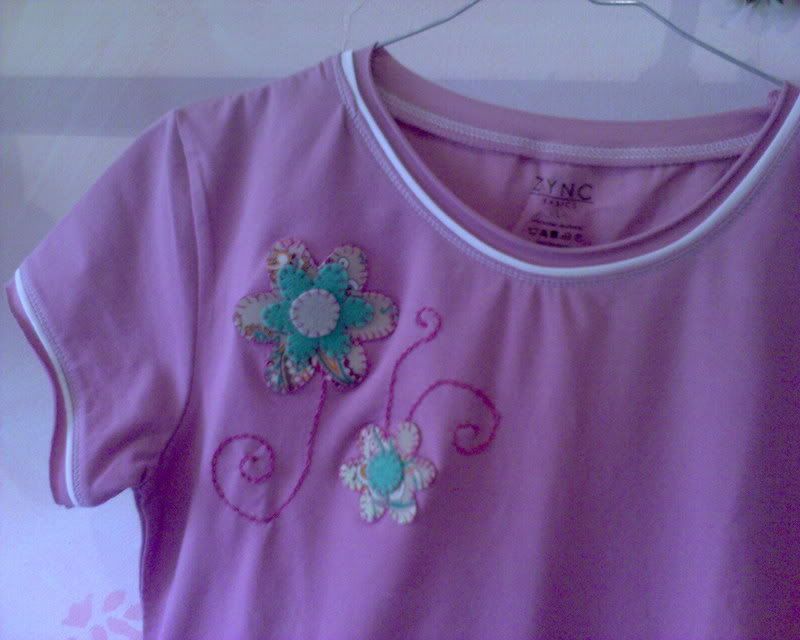 I'm having the headache, and one of my cousin will be having the T-shirt on Eid inshallah. What do u think? I just baught it today plain and then I added the fabric and felt flowers and the stiching, I think it's cute but is it enough as a gift? I hope so. I got three more with different fabrics for each. I just love fabrics, and I love the fact that I'm using what I'm buying.
Today I went to another discounted home store, and I didn't find much that I like, but I found some nice cream colored with darker cream flowers print plates, I just loved them and I'm thinking of changing my whole plates to match. I have three different sets, one for two persons, one for three( I accidently smashed a plate while cleaning it) and the third for 8. I want to replace all of them with a matching cream colored set for 12 in case I had company ( which is as rare as rain in this city !) well maybe after all the months of ramadhan and eid are finished .
My husband is having cold, and looks like we are getting too, actually every one around is having a cold, I think it's cuz of the seasons changing, although it is still hot and humid in here.
That's all for now my head hurts!