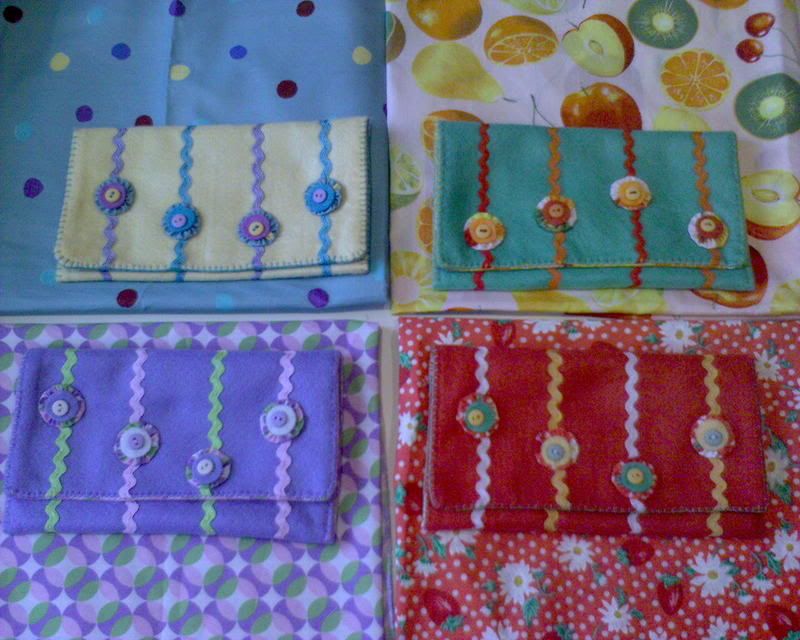 As usual nothing is new, or maybe there are lots of new things but still I can seem to recognise them..?
since last week I have been working on my Eid gifts, so far I finished four wallets with different color combinations (the picture above shows the outside of the wallet with each lining behind ) I am excited that everyone who sees my works like it, maybe I can do something good with that.!
The weekend was busy, on wednesday we had dinner at my uncle" s house with mom and my gradparents and my other uncle, it was very nice. On thursday my dad and step mom and baby sis( I found out she will turn 20 soon! scary I always think of her as baby sis) came to Bahrain cuz dad has a meeting, we met him there and watched cars for our daughter( who slept through half of the movie but we liked it anyway) then had lunch at chilis and spent the next three hours in the hotel lobey catching up. nice day. Friday was the official family gathering, we went shopping after that with mom and her cousin for clothes and I got a very cute pink bubblegum nail clipper ( me and pink..!)
Sturday we went shopping for anything nice we could find in a discounted place, I got a footstool that goes very well with our decor along with many little things.
So is there anything new in what you just read? or is it the same things we do all the time? maybe a mix of both considering that what I might call new has to be VERY exciting such as a sudden trip to London or finding the house of my drems or waking up to find myself someone different..!
Well until any of these things happens, I am happy with the "old" things we have.