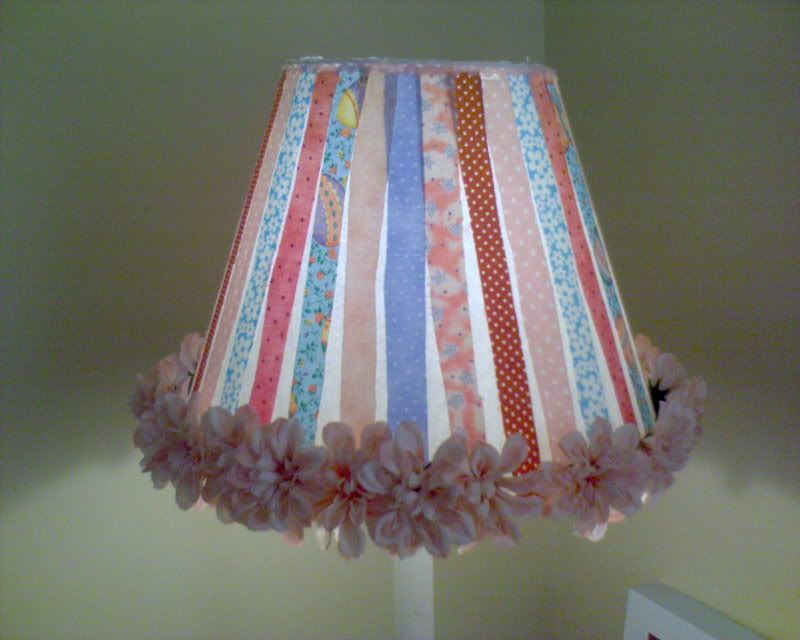 That's what I'm trying to do by making my craft room ( which I spend most of my day in) more pretty and containing more of the things I love the most.. Girly things.
I love this lamp, I got it looong time ago from Ikea ( maybe 15 years ago ) and it transformed with me from house to house, changing looks with the change of the room's decor. But this look? I love the most. I always wanted to do something with flowers on it, and these flowers I recycled from our previous home where it was stuck on my window shades. I love recycling and using the same things in different ways since I enjoy changing our decor from time to time. I t is considered an economic way of redecorating.
By the way I still need to hand that bulletin board which is also from Ikea ( you think I love this shop or what? ) it was originally white with orange backgrounds , I changed that by painting and gluing colorful fabrics.
Yesterday I bought some lovely kid's fabric for my daughter's room to make a curtain. This room will be so different from her last room ( I blogged about it earlier ) the first one was pink and purple and so flowery, this time it will have blue , green, yellow, orange , red and apparently no pink. I love pink and I love it for little girls. but since she chose a bed set that has Hamtaro the hamster on them , it has all the colors in the world. anyway there is still time for me to make her a pink girlish room before she starts wanting her own style.I also need to paint something on her walls they seem so bare to me and I hate bare walls specially in a three years old kid.