To my princess's room revealing. But first a reminder of her two first rooms (yes she isn't 4 yet and she had three rooms..! mashallah we moved a lot)
So her first room was when she was three months old, I finished it around her sixth month and we stayed there till she was a year and a few months. We painted it pink before moving in, but since babies tend to have very colorful toys I thought that it would look better with many colors. So I painted two opposite walls 6 different blocks of color including the pink, it was a tiring job in between her napping time or crawling all over me..! Many times her dad would come back home from work to find paint all over her.
I centered the crib in the largest wall with a huge crown over it a " you are our little princess " saying. and a lot of flowers and grass and butterflies.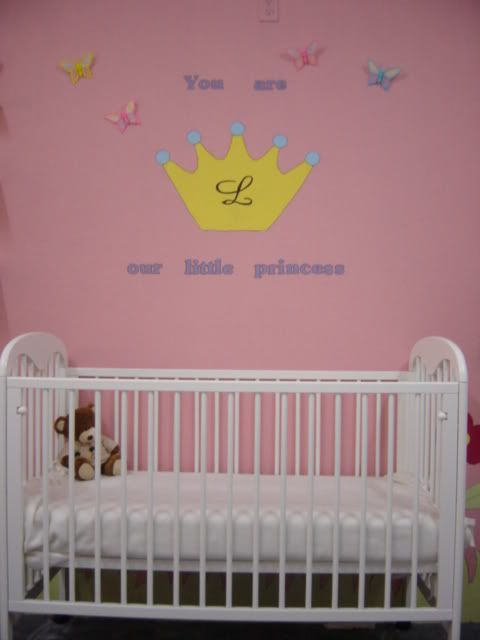 The fourth wall is a huge cabinet that is build on the walls to store everything from her clothes to the vacum cleaner. So that room was our favorite in the house, you would find us sitting there alot of the times just talking or playing with the little princess, and she didn't even sleep there yet.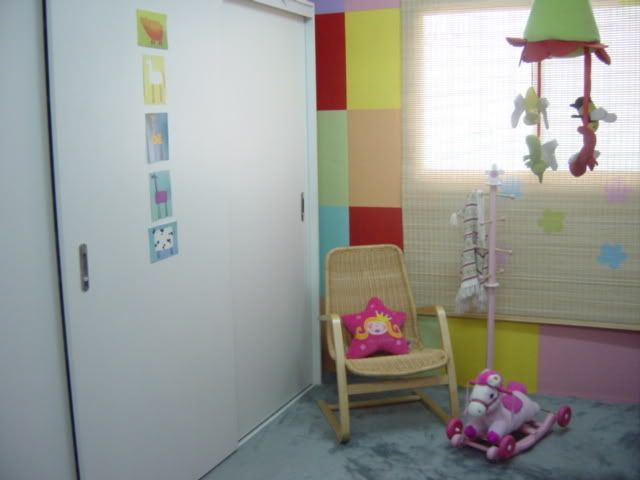 So next post inshallah would be her second room.. I feel the most sat leaving her rooms behind when we move, because I put a lot of thought and love and work in them.